Private clinics that want to improve their online marketing need to care about backlinks. Period.
Why?
Because search engines like Google and Bing use backlinks to signal authority and relevance.
Yes, search engines can understand the content of a website much better now, but backlinks still play a huge part in the Google algorithm.
But what is a backlink?
Basically, a backlink is a link from any third party website to yours. Simple, right?!
So where should we start getting backlinks from?
Often, one of the best places to start getting backlinks is from sites that link to your competitors.
The good news is that there are a couple of simple ways to find your competitors backlinks.
Method 1: Use Ahrefs
One of the quickest and easiest ways to find your competitors backlinks is to use Ahrefs.
Simply click the link above, enter your competitor's website name then click 'check backlinks'.
You can repeat this one at a time or sign up for a trial (it'll set you back $7) but it's well worth it as you'll be able to check up to ten competitors at the same time. You also get a huge range of additional data.

Video: Find healthcare competitors links in Ahrefs
Method 2: Use Ubersuggest
Much like Ahrefs, Ubersuggest makes finding backlinks super easy with its new tool called "Backlink opportunities".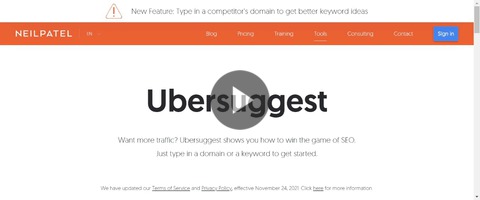 Video: How to use Ubersuggest backlinks opportunities
So if you go to Ubersuggest and you type in your URL, on the left-hand navigation, you can click on backlinks then go to backlink opportunities.
And what this report does is it shows you all the people who link to the competitors that don't link to you.
So you would want to put in your URL and put in up to three of your competitors.
If you don't know who your competitors are, try a Google search for the type of terms patients may use to find you. Something like "private knee replacement" or "cosmetic surgery near me" and you'll see your competitors in the search results.
Finding Backlinks for 'Private Clinic London'
For this example, let's imagine that I run a private health clinic in London.
So I've searched for 'private clinic London'. Here are the top-performing sites that I want to analyse:
If someone links to three, four, or five of the competitors above, the chances are they're willing to link to you, too. They don't have any bias towards any one of your competitors. This makes it easy to approach them for a link and the chances are that they'll link to you as well.
Next Step: Reviewing the sites
The next stage is to look at what these sites are all about and whether they are actually worth pursuing a link from.
This is where it can become time-consuming. Thankfully, as a specialist healthcare SEO agency, we do this all day so we can identify the best opportunities quickly and easily. Here's an example below of what we found.
These sites are linking to six of our ten "private london clinic" competitors.
The ones that really stand out here are the Telegraph, Cosmopolitan and Yahoo's style section. These are some BIG sites and getting a link from them would be a HUGE signal to search engines that our site is a trusted authority.
Next step: Working out what content fits
These reports show you the exact page these sites are linking to and where they are linking from.
So we can now take a look at this article right here from the Telegraph. We can see the type of content they're linking to.
Here the report shows us the name of the article in which they link to our competitor:
The report also shows where exactly in the article they link to the competitor:
In this case, it's because of a survey around liposuction that theprivateclinic.co.uk conducted.
So maybe for our fictional clinic, we could consider conducting a survey too. Perhaps we could publish it on our website but improve on what The Private Clinic London have done.
We could do so by including more data and considering creating an attractive infographic or PDF that others are likely to reference and, more importantly, link to.
Next Step: Bigger, better, faster, stronger
By making your content better than your competitors, making it more in-depth, making sure it solves all problems, having step-by-step instructions, maybe animated GIFs helping you explain them, maybe infographics, maybe even add in some videos – assuming the experience is better and you're just not creating long content for the sake of it – you can reach out to that site and others and show them how your content is better than your competitors. Explain to them how it's going to benefit their readers more, and ask them for a backlink.
And the chances are, they'll be willing to link to you, assuming that your content is indeed better.
That's it, that's all you need to do. And if you do that at scale and you do that within the healthcare niche, you'll generate more backlinks than your competition. If you want our team to just do this for you, check out our free SEO video report that will give you details on how to get started with this approach.